God's Bow music in film "Witajcie w mroku" on HBO and HBO2

On January the 30th (Friday) at 21:55 the TV channel HBO and on February the 11th (Wednesday) at 22:00 TV channel HBO2 will broadcast a film "Witajcie w mroku" ( "Welcome to the darkness") - a new documentary movie about the gothic subculture by the Polish director Henryk Dederko. Eight compositions of God's Bow were used in this film as a music illustration: "Tomorrow", "Wave Awakes", "Empathy", "This Perfect Time", "Interstellar Absolution", "Twilight", "Beyond The Suns" and "Intro".
---
"Helpline" remixed by :Wumpscut: on DJ Dwarf Compilation

"Helpline is still popular ;) This God's Bow song remixed by :Wumpscut: has been included in the compilation "Dwarf Craving" (with selected songs from all 8 DJ Dwarfs). More details about this release can be found here. If you want to purchase this compilation go here.
---
The first reviews of album "Follow" have appeared in magazines and on the Internet. You can find and read some of them here.
Moreover, in magazines "Orkus", "Zillo" and "Sonic Seducer" (issue December 2007/November 2008) you can find interviews with God's Bow.
---
| | |
| --- | --- |
| God's Bow has produced a new remix - this time for the Polish dark-ambient band Bisclaveret. It is a remix of the song "Insane In God" and appears on an album "Amalgame" - published by Zoharum. | |
---
Album "Follow" and Single "Helpline" released!

Long awaited moment is finally here - new God's Bow double CD album "Follow" is released!

You can order it here.
New single "Helpline" is released as well. Contain a extravagant club version of title song and remixes by :Wumpscut:, Hungry Lucy and others. "Helpline" CD was planned and produced for promotion only, but some singles, from very limited number of copies (100), are still to purchase on the band's MySpace site.

A complete tracklist, song samples and details about both releases can be found in the DISCOGRAPHY section.
---
Album "Follow", single "Helpline" and bonus remixes - details revealed

Good news for all who have been impatiently waiting for new music from God's Bow. After some problems due to closing the band's former record company we can proudly announce that God's Bow brand new album "Follow" will finally hit the stores in September 2007!

The album features guest appearances of the cellist B.Deutung (known from Deine Lakaien, The Inchtabokatables, Mila Mar) and Roman Rütten (Endraum) on piano. "Follow" will be released as a digipack 2CD edition via the band's own label Lyre Studios and will be distributed in Germany and most parts of Europe by Minuswelt/Soulfood Music.
Disc one will contain the original version of the studio album, whereas the bonus CD will feature alternative song versions and remixes by well-known artists such as :Wumpscut:, Controlled Collapse vs. Psyche, Endraum, The Frozen Autumn, Dark Territory, C.H.District, Final Selection, Weave, God's Own Medicine, Hungry Lucy, DJ Kenneth'A and Fearing Christmas.
You can already listen to some selected album excerpts on the band's MySpace site. Watch out for more sound bits to follow. Prior to the album release the maxi single "Helpline" will be released. "Helpline" Remix by :Wumpscut: [mp3 sample] is also available on the "DJ Dwarf Seven" MCD (out now) that promotes Rudy's newest album "Body Census".
---
More remixes from God's Bow (:Wumpscut:, Psyche, DarkTerritory, Mind:State, RAA)

God's Bow have recently recorded and produced several remix tracks for other artists. The latest work includes songs "Unveiling The Secret" [mp3 sample] (to be found on "Unveiling The Secret 2.0" by Psyche, Endless Records 2006 – out now), "This Above All" [mp3 sample] (to be found on the limited edition of "Decayed-- Rebuild" by Mind:State, Alfa Matrix 2007 - out now) and "Angel 0708" [mp3 sample] (to be found on "Birth Process" by
project Rumours About Angels -  further release details tba). Furthermore God's Bow have remixed the song "Remember One Thing" for :Wumpscut:. The track will be included on a Box Set version of the forthcoming :Wumpscut: album "Body Census" (Beton Kopf Media 2007 - release date 30 March 2007). A remix version of the song "Vrijdag" [mp3 sample] will appear on the album "Deliverance" by Dark Territory (release date March/April 2007). Complete tracklists of all albums mentioned above can be found in the DISCOGRAPHY section.
---
"This Perfect Time" remix on Tribune Records compilation

God's Bow's "This Perfect Time" remix version contributed by Dark Territory was recently released on "cOMpiled: 5 Years of Operation Mindfuck" (Tribune Records, 2007 – out now). The compilation includes songs by artist such as: Die Perlen, This Morn' Omina, Kirlian Camera, File Not Found and many more. A complete tracklist can be found in the discography section. Further information can be found on Operation Mindfuck site. The CD can be purchased via Tribune Records homepage. A complete tracklist can be found in the DISCOGRAPHY section.
God's Bow on MySpace and "Helpline" in a single version

For the first time you can hear a full version of "Helpline" – one of a brand new songs from new album "Follow" in a shorter single version. You can find it in God's Bow profile on MySpace website ( http://www.myspace.com/godsbow ). You can hear there three other songs in a full version too, e.g. another "Promise"- version remixed by a band E.R.R.A.
---
Black Flames Records close its doors - release of "Follow" postponed
Because the previous God's Bow label (Black Flames Records) has surprisingly finished its existence, the date of a release of "Follow" will surely be postponed. It is not decided yet where will be released this new album – the negotiations with various record companies are taking place now. You will surely be informed about the results soon.
2005 - August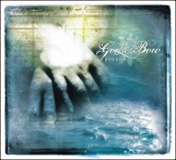 The group has finished recording of a new album . Its name is "Follow" and will be released this Winter as a digipack. Its graphic layout was developed by £ukasz Pawlak. The album will be published by Black Flames Records, as the previous two. Here's complete tracklist of "Follow":
1. Empathy
2. Tomorrow
3. I Know
4. Helpline
5. Wave Awakes
6. This Perfect Time
7. Hike
8. Mosaic
9. Cold
10. Under Heavy Sky
11. Serenity
12. Follow